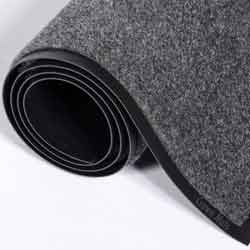 Eco Step Recycled Plastic Entrance Mats
Backed with an organic resin vinyl backing to minimize movement, the surface fibers of the Eco Step Recycled Polyester Door Mats consist of 100% recycled P.E.T polyester material which retains up to 20% more moisture than a standard olefin mat. Now you can keep your floor clean while doing your part to help the environment with this recycled plastic mat… it's a win-win!
Commercial Mats and Rubber.com is proud to mention that the EcoPlus and Eco Step Recycled Plastic Mats are made from post consumer materials, helping prevent plastic bottles and tires from entering our landfills and preserving our natural resources! 1 sq. ft. = 4 bottles | 4' x 6' mat = 96 bottles | 6' x 20' roll = 480 bottles Can't find your size? Call 1-800-810-7847 or email [email protected] for a custom quote!

Thickness: 5/16?
Backing: Vinyl with natural organic resin blend
Top fibers: 100% recycled P.E.T. polyester
Wiper
Indoor – Light to Medium Traffic areas
•Schools
•Hospitals
•Lobbies
•Restaurants
•Office Buildings
•Theaters
•Churches
•Hotels
Commercial Mats and Rubber offers free shipping in the continental United States on any order over $50.