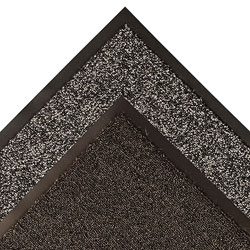 The Opera runner mat for indoor use from No Trax features 3 mats in 1 consisting of three sections for scraping, wiping, and drying. The first is made from abrasive looped fibers to scrape dirt and debris from the shoes. The second is looped scraper yarns with water retention capabilities and the third is looped pile olefin carpet fibers to finish the job. Perfect for hotel lobbies, office buildings, or any other large entryways where high performance matting is needed.
Recommended and approved product as a part of the GreenTRAX™ program for "Green Cleaning" environments (when used as part of the "Stages" system).
Also check out our Uptown Mat.

Overall Thickness 3/8"
Stock Sizes 3'x10', 3'x12', 4'x10', 4'x12', 6'x10', 6'x12'
All large, upscale entrances: offices, hotels, professional buildings.
Commercial Mats and Rubber offers free shipping in the continental United States on any order over $50.