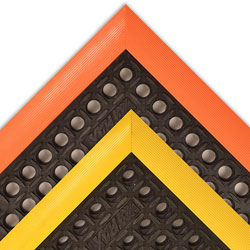 Safety Stance Heavy Duty Industrial Mat
The #549 Safety Stance Heavy Duty Mat is the perfect solution for individual work stations. Each mat comes with preassembled safety edging in Yellow or Terra Cotta that is easy for the worker to notice and eliminates tripping. Raised ribs on the surface of the mat provide additional traction in wet areas while the quarter size perforations allow liquids and debris to easily fall through. The 7/8″ thickness provides the worker with maximum comfort reducing fatigue and boosting worker morale and productivity. Mats can be assembeled with edging on three or four sides depending on the work station.
Overall Thickness 7/8"
Stock Sizes 26"x40", 28"x40", 38"x40", 40"x40", 38"x64", 40"x64", 38"x124", 40"x124"
Borders are a 100% nitrile rubber compound.
•Assembly Lines
•Drilling/Milling Stations
•Heavy Machinist Work Areas
•Welding Areas
•Other heavy duty wet work areas
Commercial Mats and Rubber offers free shipping in the continental United States on any order over $50.