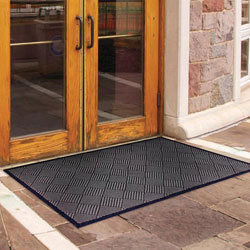 TireTuff Cleanscrape Outdoor Mat
At Commercial Mats and Rubber, we recommend using these TireTuff Cleanscrape Outdoor Mat in any high traffic outdoor entrance areas. These mats are brand new to the commercial matting industry and provide best-in-class scraping performance to clean shoes in any outdoor entrance setting. These mats are durable and aggressive in keeping your outdoor areas free of dirt and debris, featuring an innovative grit surface that cleans dirty shoes while at the same time hiding dirt in recessed, hidden channels. The TireTuff Cleanscape mat also repels water and is quick-drying, plus the rasied edges help hold water and debris in the mat itself and not on your floor surface.
Additional features:
Extra-heavy recycled rubber base keeps mat in place.
Patented grit surface provides ultimate anti-slip characteristics in all weather conditions.
Surface grit is UV stabilized. Easy to clean just shake or hose off.
Material: Recycled Rubber
Overall Thickness: approx 1/4"
Sizes: 2' x 3', 3' x 5', 4' x 6'
High Traffic Outdoor Entrances
Commercial Mats and Rubber offers free shipping in the continental United States on any order over $50.