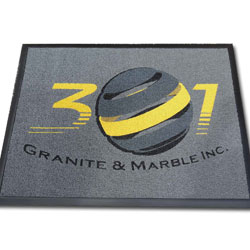 Vinyl Loop Inlay Logo Mat
For pricing, please email us at [email protected] and include the following:
1. Which type of logo mat you are interested in
2. A pdf or jpeg file of your logo
3. The size(s) needed
4. The quantity needed
5. Any additional instructions
We will get back to you asap with your custom logo mat quote!
The Vinyl Loop Custom Logo Mat is the ideal logo mat for indoor and outdoor entryways. This personalized vinyl loop mat is constructed of an extruded "spaghetti" like material that is UV and mold resistant and comfortable on bare feet, making it perfect for pool areas, saunas, spas or locker rooms. Your custom logo mat is created using a precision cut inlay process resulting in a crisp clean logo every time. The personalized vinyl loop mat is also stain resistant and non-absorbent, making it extremely easy to clean - simply shake or hose off to remove any dirt or debris.
Please email us with your logo for pricing. Custom sizes and shapes available!
Thickness: 3/8"
Material: Extruded Vinyl
Sizes: 3' x 4', 3' x 5', 4' x 6', 4' x 8', 3' x 10' and 4' x 10' (Custom sizes available upon request)
Benefits:
Comfortable on bare feet
UV, mold, mildew, stain and chemical resistant
Easy to clean
Hides dirt and debris
These mats are ideal for indoor and outdoor entryways, as well as sauna, spas, locker rooms, and pool areas.
This product ships FREE within the Continental US!