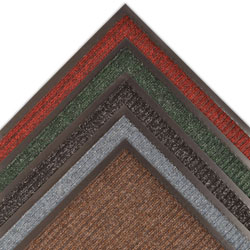 Brush Step Ribbed Entrance Mat
The Brush Step Ribbed Entrance Matting from No Trax is an economical low profile mat that is ideal for any doorway with limited door clearance.The ribbed surface brushes, channels, and conceals dirt and debris and is the perfect choice for light to medium traffic areas. This low profile mat offers custom lengths up to 60'!
Can't find the right size of entrance mat? Call 1-800-810-7847 or email [email protected] for a custom quote!

Overall Thickness 3/8" to perform in narrow clearance doorways
Face Weight 19 oz per sq. yd.
Stock Sizes 2'x3', 3'x4', 3'x5', 3'x6', 3'x10', 4'x6', 4'x8'
Roll Sizes 3'x60', 4'x60', 6'x60'
Custom Sizes Available in 3', 4', and 6' widths
Indoor –
•Entranceways
•Lobbies
•All light to medium traffic areas.
Commercial Mats and Rubber offers free shipping in the continental United States on any order over $50.
Overall Thickness ? 3/8? to perform in narrow clearance doorways.
Face Weight ? 19 oz per sq. yd.
Stock Sizes ? 2?x3?, 3?x4?, 3?x5?, 3?x6?, 3?x10?, 4?x6?, 4?x8?
Roll Sizes ? 3?x60?, 4?x60?, 6?x60?
Custom Sizes ? Available in 3?, 4?, and 6? widths