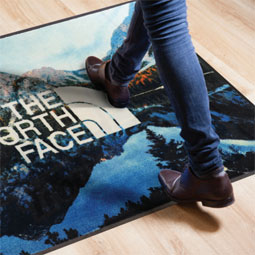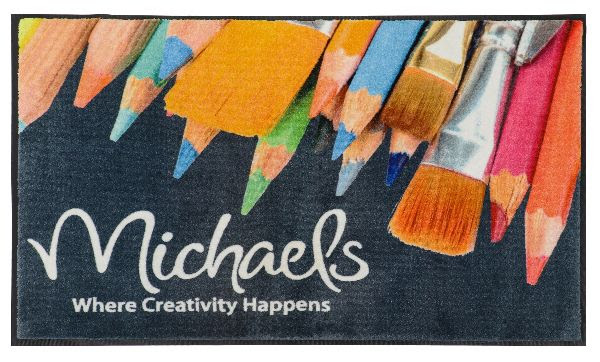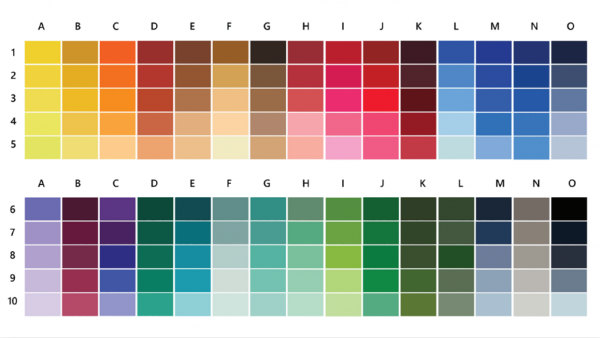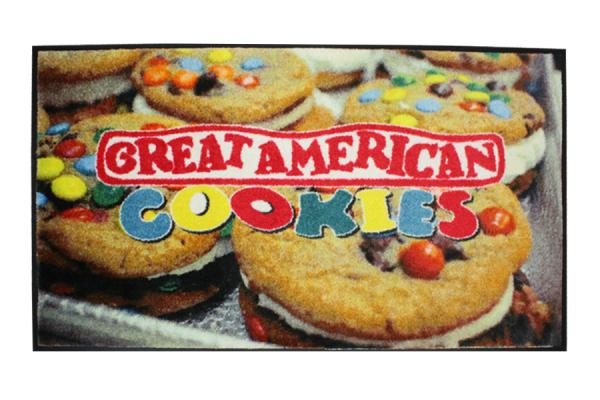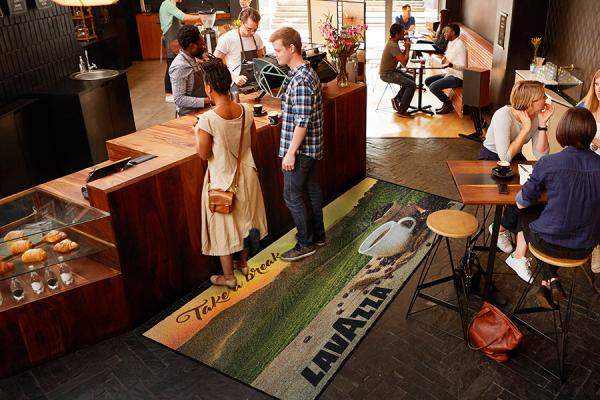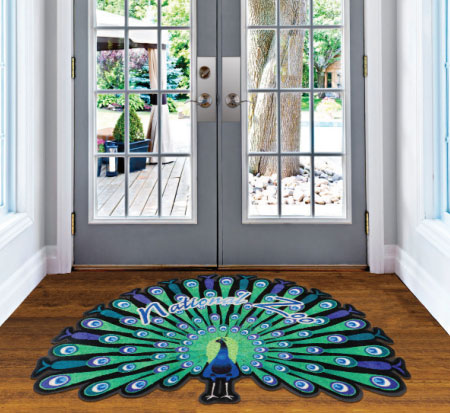 Colorstar Impressions HD Logo Mat
For pricing, please email us at [email protected] and include the following:
1. Which type of logo mat you are interested in
2. A pdf or jpeg file of your logo
3. The size(s) needed
4. The quantity needed
5. Any additional instructions
We will get back to you asap with your custom logo mat quote!
The Colostar Impressions Logo Mat are created using a state of the art high definition ink jet printer to create images of near picture quality on Eco-Friendly PET (polyethylene terephthalate) fabric with choice of SBR or Nitrile Rubber backing. This mat is ideal for customers who need a tough indoor entrance mat with a highly detailed logo. We can match your logo/image colors to our 150 color options at 76 dpi to achieve fine detail, shading and 3D images! Custom lengths are available up to 40'.
Photographic-Quality Print – Logos and designs are digitally printed at 76 dpi on PET carpet, making fine details, shading, and 3D images achievable
Eco-Friendly – PET (polyethylene terephthalate) carpet surface contains 100% recycled content reclaimed from plastic
Fade Resistant – PET yarn has excellent color-fastness and is resistant to fading from repeated washing/cleaning
Stain Resistant – PET yarn is naturally resistant to staining
Choose from 150 standard colors
Tufted at 32 ounces per square yard (the same weight as Classic Impressions HD)
Also available in

custom shapes
*NOTE: Colors change from dye lot to dye lot. If you are ordering more than 1 mat and need your colors to match, it is HIGHLY recommended that all mats are ordered at the same time. We cannot guarantee color matches otherwise. All sizes are approximate and have a +/- tolerance of 3%.
SURFACE
Material: PET (polyethylene terephthalate) printed/disperse-dyed yarn - contains 100% post-consumer recycled plastic from drink bottles
Weight: 23 ounces/yard2
Construction: Cut pile
Substrate: Freudenberg LUTRADUR® polyester spunbond non-woven fabric 3.8 oz. per square yard (130 grams per square meter)
BACKING (available with nitrile or SBR)
Material: Nitrile rubber - smooth, universal cleated or suction
Thickness Options:
Standard duty 52-mil (body thickness 52-mil; border thickness 94-mil)
Medium duty 65-mil (body thickness 65-mil; border thickness 107-mil)
Heavy duty 90-mil (body thickness 90-mil; border thickness 90-mil)
Material: SBR rubber (with 20% recycled content) - smooth or full cleated
Thickness: 48-mil (body thickness 48-mil; border thickness 90-mil)
OVERALL MAT THICKNESS: 3/8 inch (0.375")
STANDARDS & TESTING
Recommended for indoor commercial use at entryways, in lobbies, at front desks or anywhere you want to display your company logo, slogan, artwork, or message to customers/visitors or employees.
This product ships FREE within the Continental US!