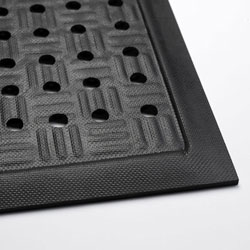 Cushion Station Wet Area Anti Fatigue Mat
The Cushion Station Mat is ideal for all types of industrial application where comfort and safe footing is needed. This mat combines an anti-microbial agent with a nitrile foam rubber material that is impervious to grease, oils and animal fats. It is so tough infact that it is spark resistant making it safe for welding stations! Knobbed backing allows for maximum comfort and moisture to drain quickly. Choose from #370 without holes for dry areas or #371 with holes for wet area applications. Comfortable on bare feet and anti-microbial also make this mat ideal for spas, locker rooms, pool areas and more!
 Nitrile Foam Rubber Construction

 7/16" Thickness

 Passes Flammability Standard DOC-FF-1-70

 Static Dissipative

 ASTM C1028-96 Static Coefficient of Friction: Dry - .94 Wet = .69

 Anti-microbial treated for lifetime protection against odors and degradation

 Grease and Oil proof

 Can be autoclave sterilized

 Welding safe
Any application with exposure to grease and oils such as commercial kitchens, meat packing plants, food processing, and other.
Commercial Mats and Rubber offers free shipping in the Continental US on orders over $50!