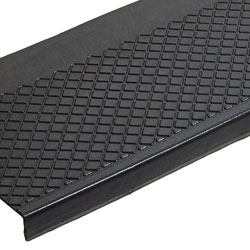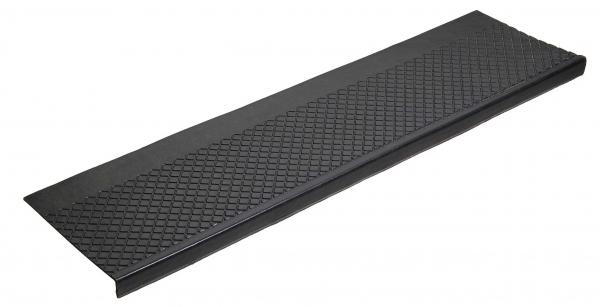 Diamond Rubber Stair Treads
CLICK HERE FOR STAIR TREAD EPOXY AND ADHESIVES.
NOTE: Many Roppe products are made to order and can take up to 3 weeks for manufacturing. If your order is time sensitive, please call or email to check availability. Please call or email for pricing on all Marbelized Colors.
Diamond Rubber Stair Tread covers combine the resilience of a specially formed compression-molded high-grade synthetic rubber compound with an indented diamond pattern improving traction and allowing dirt and debris to be captured within the tread. This results in a safer and more appealing looking stair tread that is built to last. These anti slip stair tread tiles are easy to install using our AW15 Rubber Stair Tread Adhesive and optional Stair Tread Risers for a continuous look. Marbelized colors also available, please call or email for pricing.
NOTE: Roppe EN-610 Nose Epoxy must be used with all Roppe Rubber and Vinyl Stair Treads for warranty coverage. Most stair treads are made to order and are non-returnable. Once orders are placed and put into production they cannot be cancelled under any circumstances.
30 Diamond Design Square Nose:

Lengths: 36", 48", 60", 78", 90", 102" All Nominal Lengths
Depth: 12" Nominal from inside of nose Depth
Thickness: 3/16" Tapering to 1/8" nominal Thickness
Packaging: Six (6) treads per carton up to 72" nominal / Four (4) treads per carton for lengths greater than 72"
Schools, hospitals, apartment buildings, mall and shopping centers, retail, office buildings, etc...
Commercial Mats and Rubber offers free shipping on orders over $50 in the Continental US.