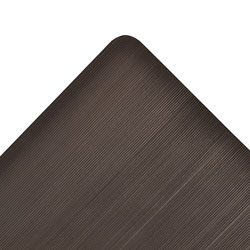 Ergo Mat Grande Anti-Fatigue Mat 1" Thick
The Ergo Mat Grande 1" Thick Anti-Fatigue Mat by NoTrax features a corrugated ribbed top surface of resilient SBR rubber providing directional traction to reduce slips. At a full ONE-INCH thick, Ergo Mat offers superior anti-fatigue support for applications where workers are required to stand for long periods of time such as packaging stations, shipping departments, welding areas, and assembly lines. The top surface is combined with a dense closed cell foam base utilizing NoTrax exclusive UniFusion technology virtually eliminating the possibility of de-lamination. Now with RedStop, a uniquely engineered technology that eliminates the slipping and sliding of NoTrax floor mats on all types of smooth floor surfaces such as vinyl composite tile, painted or epoxy coated concrete, vinyl sheet flooring, carpet, and ceramic tile.
Features and Benefits:
One of the 4 most comfortable mats available for dry area applications.
Corrugated ribbed top surface of resilient SBR rubber is combined with dense closed cell foam base utilizing NoTrax® exclusive UniFusion™ technology.
UniFusion™ bond guaranteed for the life of the mat – See warranty for details.
Sloped beveled foam on all 4 undersides affords easy access onto and off of mat.
Manufacturer's warranty of 3 years is provided.
Splicing option available for custom widths.
Now with RedStop™ to eliminate mat slippage.
Please call 1-800-810-7847 for Custom Sizes and Pricing.
Overall Thickness 1"
Stock Sizes 2'x3', 3'x5', 3'x12'
Roll Sizes 2'x75', 3'x75', 4'x75'
Custom Sizes Available in 2', 3', and 4' widths
All busy work cells that require more slip resistance than average.
Commercial Mats and Rubber offers free shipping in the continental United States on any order over $50.