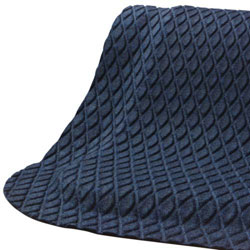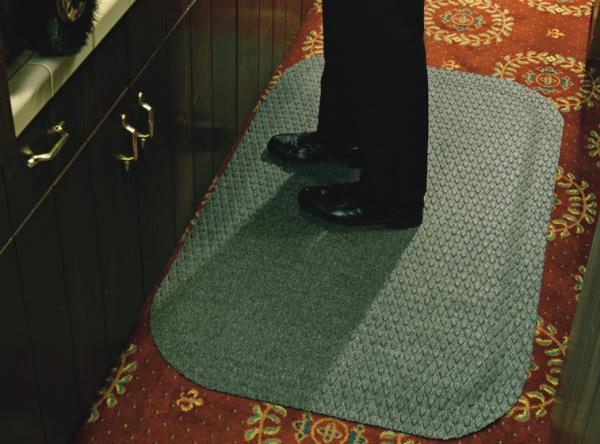 Hog Heaven Fashion Anti Fatigue Mat
Unique fabric topped anti-fatigue mat. HogHeaven Fashion features slip resistant solution dyed fabric molded to a solid Nitrile rubber surface for easy cleaning and an attractive appearance. The premium cushion is molded to the Nitrile rubber and fabric surface ensuring a durable construction. Hog Heaven Fashion is available in two thicknesses: 5/8" and 7/8"
NOTE: All sizes are approximate. Please call 1-800-810-7847 or email [email protected] for pricing on custom lengths in 3′ widths.
OVERALL MAT THICKNESS .628" or .875"
SURFACE RUBBER TYPE: Needle-punched polypropylene
THICKNESS: 14ozs/sy
CUSHION RUBBER TYPE: Nitrile/PVC
THICKNESS: .5" or .75"
DENSITY: 5.5 to 7.5 lbx/ft³
WATER ABSORPTION: ASTM D 1667- .01 lb/sq ft maximum
FLAMMABILITY: FMVSS302- 0 Burn (pass)
TEMPERATURE USE: ASTM D 1056- Cold Crack: -20 degrees F High: 200 Degrees intermittent exposure
BACK RUBBER TYPE: 100% Nitrile Rubber (20% Recycled content)
THICKNESS: .070"
DUROMETER: 65
TENSIL: 1100 PSI
Recommended for use work stations, assembly lines, shipping lines and other areas where workers stand for extended periods.
Commercial Mats and Rubber offers free shipping in the continental United States on any order over $50.