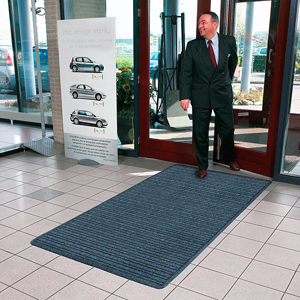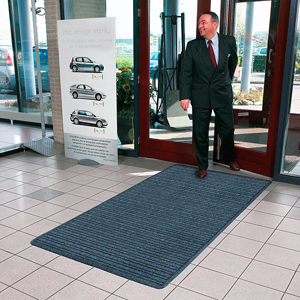 Door Mats, aka "Entrance Mats" can be found in just about any home or business ranging from simple entrance mats to high end logo mats or premier designer entrance mats. We offer a variety of door mats for all different applications such as scraper mats, hallway runner mats, absorbent mats, rubber mats, carpeted mats, perforated mats, solid mats and the list goes on.
When choosing a door mat, you will want to be aware of the differences between Indoor Mats and Outdoor Mats. Typically most outdoor mats can be used indoors as well, but this does not always apply to indoor mats. Outdoor mats are generally constructed of a UV resistant polypropylene material that will not fade in direct sunlight unlike indoor mats that are typically made of olefin. Also, outdoor mats usually have a rubber backing versus a vinyl backing that can crack in freezing temperatures.
Some benefits of Door Mats and Logo Mats include:
Protecting your floors
Prevent tracking of liquids, dirt and debris
Asthethic appeal
Promoting your brand
Preventing slips and falls
Sound absorption
Aside from the many functions of door matting, many mats can be appealing to the eye and offer a nice ambiance to a room. Our matting products range in size, color and style to compliment any type of décor. In our Premier Entrance Mat section, you will find mats that are not only of the highest quality, but also will leave a lasting impression to anyone who enters your home or business. These mats come in surface patterns such as Chevron, Ribbed, Berber, Herringbone, Diamond, Waffle, as well as numerous earth tones and vibrant colors.
Here are a few of our favorite High Quality Premium Entrance Mats: