Learn More About Anti-Fatigue Mats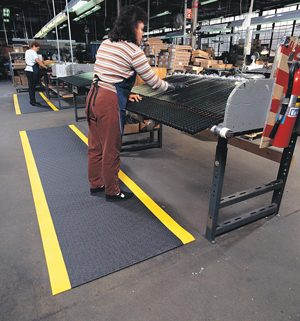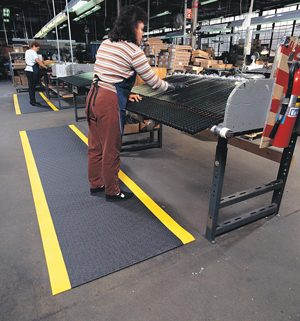 What are Anti-Fatigue Mats?
Anti-Fatigue Mats are ergonomic cushion mats that are designed to reduce fatigue for anyone standing in one place for long periods of time on hard surfaces such as concrete and tiles. There are many jobs that require standing most of the day such as cashier clerks, production line workers, welders, restaurant employees and more, where a good anti-fatigue mat could be extremely beneficial.
Below are some of the Benefits of Anti-Fatigue Matting:
Increase in blood flow reducing fatigue
Relieving stress on legs, joints and back
Provides comfort
Boosts overall morale
Prevents slips and falls
What are the different types of Anti-Fatigue Mats?
There are many different types of anti-fatigue mats designed for specific industries. Some mats are perforated for wet areas such as behind bars, car washes or any areas exposed to liquids. These mats typically have some sort of textured surface for traction, preventing slips and falls. Some mats even have a "grit" sandpaper like material applied to the surface for sure footing in extra slippery areas exposed to grease or oil. Most of these mats are constructed of vulcanized rubber or a nitrile rubber blend which is a synthetic rubber highly resistant to grease, oil and chemicals.
Other anti-fatigue mats are solid and these are generally used in dry work areas like packing plants, pharmacies and retail stores to name a few. Solid mats can vary in colors and surface designs such as diamond plate, pebble, carpet, ribbed, or smooth depending on the application or what is more aesthetically pleasing. These mats are mainly manufactured using a closed cell pvc sponge and a thin layer of rubber or vinyl protective surface.
Here are some of our most popular Anti-Fatigue Mats:
How do I choose the right Anti-Fatigue Mat for my application?
First you will want to determine if you have a wet or dry work area or both. As explained above, wet areas usually (but not always) require a perforated mat. Dry areas could use either a perforated mat or a solid mat depending on the use.
Next you will want to measure the area where you want to place your mat. Many rubber ergonomic mats are made using a rubber molds and therefore only have a few size options such as 3' x 3' or 3' x 5'. Most of the foam based mats can be custom cut into lengths to the nearest foot. Some other mats are also available in interlocking tiles to cover larger work stations.
Figure out how much comfort you will need based on the amount of time you stand each day and the type of surface you are currently standing on. Maybe you are standing a couple of hours a day on an office carpet or soft tile flooring, chances are you want a mat up to 5/8" thick. If you are standing pretty much all day on a hard surface like concrete, wood or tile, you might want to consider a "Premier" anti-fatigue mat which come in thicknesses around 1" inch thick.
There are literally hundreds if not thousands of anti-fatigue matting options to choose from. If you feel you still need help finding the best mat for your purpose, feel free to call or email during normal business hours. We are here to help!