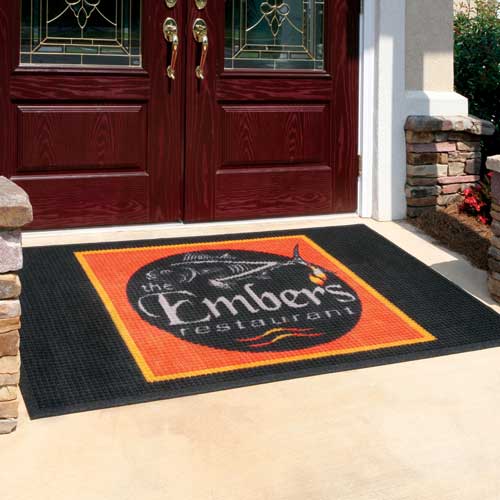 Logo Matting FAQ's
Finding the perfect matting for your business is important for safety and comfort. Read through some of our common customer questions below to help you choose the best mat for your needs.
What types of mats can I get my logo on?
We can add logos or images to any of the mats in our Logo Mat section. These mats include Jet pPrinted Mats, Inlays Mats, Heat Sealed Rubber Mats, Anti-Fatigue Mats, Vinyl Link Mats, Coco Matting and more.
What type of file do you need my logo in?
Either in a .jpeg or .pdf format, sent to: [email protected]
Can I just vacuum my logo mat?
Most of our logo mats can be simply vacuumed and/or hosed off and hung up to dry (you could also use a professional cleaning service on plusher type mats to remove any soil or debris trapped deep down in the fibers).
My logo mat is extremely dirty; what can I use besides a vacuum?
When dealing with tougher outdoor logo mats like the Vinyl Link or Rubber Logo Mats, you can use a light detergent or degreaser and a scrub brush to loosen up any dirt or grime, and then rinse off with a hose or pressure washer.
Do you have a more eco-friendly option for logo mats?
We use a nylon carpet base on our outdoor logo mats that is static dissipative and combine it with a 100% rubber backing that's completely earth-friendly. And our rubber backing contains 20% post consumer recycled content. We also carry Designer Coco Mats are made from natural coconut fiber.
Are all logo mats black?
No. Many of our logo mats offer up to 25 colors or more depending on the product.
My logo has 3D effects and/or extreme detail; will it look ok?
For picture quality images, we would recommend the Classic Impressions HD Mat or the SuperScrape Impressions Mats which are made using a four-color process digital printer allowing us to create photo quality images with nearly ten times the resolution of the standard Jet Print process.
What is the highest quality logo mat I can buy from you?
The Custom 54 Inlay Mat is by far the highest quality mat. This mat is hand carved out of 54 ounce ultra plush nylon carpet and is best for a trade show booth or high-end lobbies.
What is the strongest logo mat I can buy from you?
The Vinyl Link Logo Mat is by far the toughest entry mat on the market! We create a mosaic version of your logo using 12 different color industrial strength vinyl links and sliding them onto steel rods.
What if I don't want my logo prominently displayed?
The Waterhog Signature Logo Mat has the same high quality water absorbent fibers as the Waterhog Classic and Waterhog Impressions Mat but with a molded, digitally printed thermo plastic material placed at the bottom right hand corner of the mat.
I need a safety mat with a message, but don't have my own logo.
We offer 14 pre-printed Safety Message Mats with logos and messages such as "Think Safety," "Do Not Enter," and "Watch Your Step."