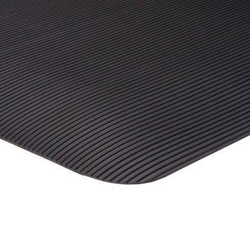 Invigorator Fatigue Fighting Mat
Invigorator Fatigue Fighting Mat:
The Invigorator Fatigue Fighting Mat by Apache is a resilient PVC top anti-fatigue mat for use in all types of industrial applications.
Durable 1/8" wide rib PVC surface bonded to a resilient, 3/8" anti-fatigue closed cell PVC foam base.
1/2" overall thickness
Aggresive rib surface enhances traction
Wide rib PVC surface easier to clean than v-groove corrugated surface
Limited 3 year guarantee against wear and delamination
Resists common chemicals and fluids if cleaned regularly
Great cost effective alternative to other multi-layer antifatigue products
Custom sizes in 2', 3' and 4' widthes up to 75' long
The Invigorator is a top-notch industrial mat with amazing ergonomic properties. A 3/8″ closed cell foam base to relieve stress on l;egs and back topped with a PVC ribbed surface providing excellent traction. This is all you would want in an
Please call 1-800-810-7847 or email [email protected] for custom cut pricing.
•Automotive & Industrial Work Cells
•Shipping and Packing Work Cells
•Machine Shops and maintenance Areas
Commercial Mats and Rubber offers free shipping in the continental United States on any order over $50.