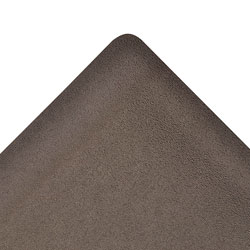 Pebble Trax Grande Anti Fatigue Mat 1" Thick
Pebble Trax Grande Anti Fatigue Mat:
Feeling tired from standing all day? Do you have sore muscles and an aching back or joints? It may be time for a top notch anti fatigue standing mat! The Pebble Trax Grande Anti Fatigue Mat is a full one inch thick SBR Rubber and PVC foam matting that is superior to your average anti-fatigue mats. This PVC anti fatigue standing mat is constructed to hold up in demanding industrial environments but can also be used behind a register at a small business or even your home kitchen! The non-directional pebble surface provides traction while keeping it easy to clean. SBR rubber construction is resistant to harsh chemicals, oils as well as sparks from welding. Patented Red Stop backing keeps mat in place over virtually any type of flooring surface preventing mat slippage.
Features and Benefits:
One of the 4 most comfortable anti fatigue standing mats available for dry area applications.
Pebble-embossed top surface of resilient SBR rubber is combined with dense closed cell foam base utilizing NoTrax® exclusive UniFusion™ technology.
UniFusion™ bond guaranteed for the life of the mat – See warranty for details.
Sloped beveled foam on all 4 undersides affords easy access onto and off of mat.
Manufacturer's warranty of 3 years is provided.
Splicing option available for custom widths
Now with RedStop™ to eliminate mat slippage.
Please call 1-800-810-7847 for any custom sizes 2', 3', 4' widths up to 75'!
Overall Thickness 1"
Stock Sizes 2'x3', 3'x5', 3'x12'
Roll Sizes 2'x75', 3'x75', 4'x75'
Custom Sizes Available in 2', 3', and 4' widths
Welding locations; work cells that are subjected to extreme traffic.
Commercial Mats and Rubber offers free shipping in the continental United States on any order over $50.