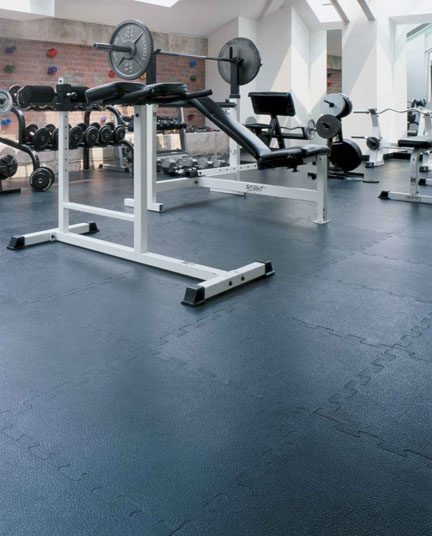 Gym Matting FAQ's We want to make sure you buy the right gym matting for the right reasons, so we've put together some helpful FAQs based off some of our customers questions and some insight that may help guide you to the perfect product for your gym.
What are the top reasons to choose rubber mats? It's affordable, is a perfect anti-fatigue material for athletes, it's easy to install, it's durable and long lasting and it has amazing slip resistance.
What is the best option for sports flooring in color options? To get a variety of 10 colors for a gym, the Best Flex Sports Flooring by Mitchell Rubber uses virgin rubber to create bright color options on interlocking puzzle pieces of floor mats.
How do I get an industrial look to my mats? You can still get the 10 bright color options on the Diamond Mega Plate Sports Flooring that is made with the same rubber, but with a diamond plate surface patter.
I'm concerned with adding to landfill waste; do you have an eco-friendly mat? Sure we do! The SureFlexx Sport Tiles use polymer technologies to create mats actually made from recycled tires. These mats are made in the USA, come in 10 color-flecked options and are a fraction of the cost of basic virgin rubber but just as durable.
I have to cover a large gym quickly and with no seams. What mat is best? The urethane adhesive in our Survivor Rolled Rubber is perfect for a long-term application that shows almost no seams and is easy to lay down with full-spread glue or dry lay. This is also available in 10 color-specked options.
What type of mat do you recommend for off-ice-ink areas, batting cages, locker rooms and golf pro shops? The Diamond Mega Plate mats we talked about before (no adhesive needed).
How many square feet of mat can I cover with 5 gallons of SureBond urethane flooring adhesive? You can cover about 300-350 square feet with a 5-gallon pail, whether porous or non-porous.
What's a thick mat perfect for tougher environments? The Lock Mat is an interlocking system of high-density recycled rubber in five color-speckled options. The large and dense titles are recommended for large areas and ski lodges, dugouts and weight rooms.
If I can't afford to cover an entire space with with rubber mats for weight training, what should I do? A less expensive alternative is an eco-friendly Super Sport Weight Lifting Mat that is perfect for heavy weight machines. These are not recommended for wall-to-wall installation but small areas, and are also good for live stock and agricultural uses.
What is a good mat for sound absorption in apartments? The diamond plate surfaced Dura Shock Gym Mat is highly dense and perfect for under treadmills and ellipticals in apartments where noise is an issue. It is also great for wall-to-wall applications, unlike the Super Sport Weight Lifting Mat.
I need bright high-impact mats for sports and recreation; what ar my options? With four color options there are jumbo reversible Soft Floor Premium Tiles that are great for high-impact sports such as martial arts, boxing, tumbling, kembo as well as playgrounds and water parks.
Do you have travel mats I can use for yoga or the beach? We offer three color pairing options for reversible soft yoga exercise mats that you can roll up and carry with the included handle. This is a perfect mat for child's play areas, road trips, camping, Pilates and the beach as well as yoga classes.
What if I want to customize my floor with many colors? You can opt for our Soft Floor EVA Foam Tiles in 2' x 2' interlocking tiles that come in 14 bright colors. Use them for kiosk areas, trade shows or day cares and yoga studios.
What mat can protect my floor from sharp things like ice skates and cleats? The durable ribbed vinyl of the Skate-Spike Resistant Mats can trap dirt, prevent slips and protect floors from sharp surfaces. We can custom size these as well if you call!
Do you have roll-on roll-off mats for events? If you have a school gym, large-space dinner or graduation, you should use the Gym-Dandy Court Floor Protection Matting made from a durable PVC foam that has an easy rollable application.
Which mat is good for wet areas? The thick beehived patterned surface and channeling backing of the Tritan Floor Saver Mat allows water to easy flow underneath the mat, making it perfect for wet areas such as warehouses and horse stalls.