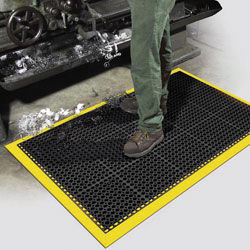 Safety Tru-Tread with Grit Tuff
Safety Tru-Tread with Grit Tuff Mat by Apache one of the thickest kitchen mats in the industry at 7/8" thick! This thick kitchen mat can be connected on all sides using the Tru-Tread X Connectors and Yellow or Orange Safety Edges can be added to increase safety awareness. Have a greasy oily area? Choose this non-slip, grease resistant mat with GritTuff coating for ultimate traction!
Thickness: 7/8" thick
Border colors: Yellow and Orange only
Custom configurations are available...call for pricing!
Oily, greasy work areas.
Wet manufacturing work stations.
Industrial work cells.
Commercial Mats and Rubber offers free shipping in the continental United States on any order over $50.