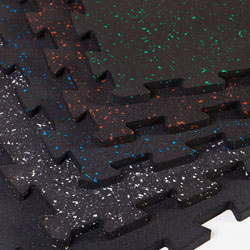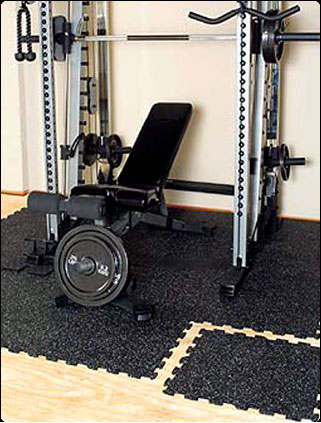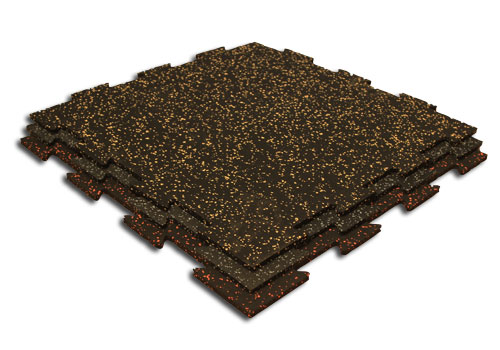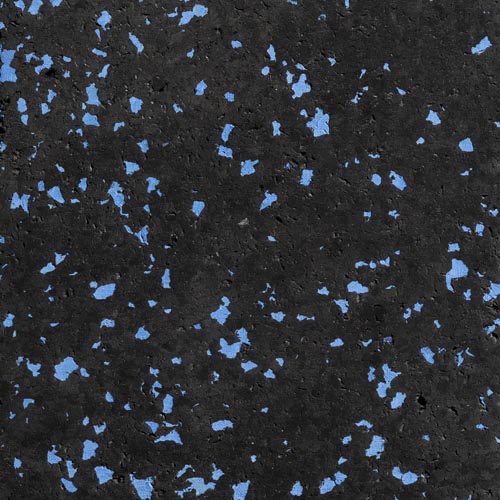 10% Fleck Color Sure Flexx Sport Tiles
Our Sure Flexx Sport Tiles are made from 100% recycled tires and compressed into large blocks before being precision cut into perfect 2' x 2' tiles in either interlocking or straight cut tiles for glue down applications. These recycled rubber gym tiles are resilient and will hold up to heavy machinery and dropping free weights. This is the same material you will see in well known gym chains across the US. High quality and a fraction of the cost of virgin rubber, it's no wonder this is the material of choice!
NOTE: The Survivor Rolled Rubber also comes in 1/8", 5/32", and 5/16" Thicknesses, as well as Color Fleck ranging from 10%-85%. You can even create your own color combinations to match your business logo or team colors! Please EMAIL us for more info and pricing.
Survivor™ SportFloor tiles (Rubber tiles), which include Square, Interlocking, Eco-Lock and Mega, deliver the extreme durability needed to withstand the rigors and punishment of a free weight area. They are perfect for small gym rubber flooring and workout areas.
Rubber rolls and tiles provide excellent traction, even when wet. They are safe for indoor and outdoor rubber flooring. Both are mold and mildew resistant. Our sourced and rubber manufactured in California, Survivor rolls and tiles are made with premium recycled rubber and are backed by a 25 year limited warranty. Sure Flexx Interlocking Tiles DO NOT come with finshed edge pieces. Simply cut excess interlocking tabs off with a razor knife for wall to wall applications. For free standing applications, have a look at our optional beveled edge nosing.
Materials: Recycled tire rubber, polymerically bound, Vulcanized Rubber
Weight: 3/8" approx 2 lbs./sq. ft.
Colors: 15% EPDM Flec coloring (standard mixing ratio) or 100% recycled (black) many colors available.
Sides: Precisions cut square (interlocking add .65/sq. ft.)
Size: 24" x 24"'
Tolerances: Certified square and top height to: ±.010"
Installation: Full spread glue down or dry lay (interlocking)
Maintenance: Damp mop and let dry* (see below)
Warranty: 3 years materials & workmanship (pro-rated basis)
SureFlexx Sport Tiles are offered in 2' x 2' interlocking or straight cut tiles
1/4", 3/8" and 1/2" thickness
10% fleck color in many choices.
Density: ASTM D3676 68.3 lbs./cubic foot
Hardness: ASTM D2240 Shore A65 ±5
Slip Resistance: ASTM D C1028 Friction Coefficient .084-.090
Abrasion: ASTM D4060 2,000 cycles taber abraser 1kg. .329-.35g loss
Flammability: ASTM D2859 Pill Test, excellent value of 3.6 (passes Class II fire requirement)
Acoustics: Rates superior
Chemicals: Resistant tomost acids and chlorine
VOC's: No measurable units
Home gyms, commercial gyms, dog kennels, garage flooring, skating rinks, rehab centers, schools.
This product does not qualify for free shipping. Please email customer service with your product type, quantity, and shipping zip code for a quote.