Learn more about our Restaurant Kitchen and Bar Mats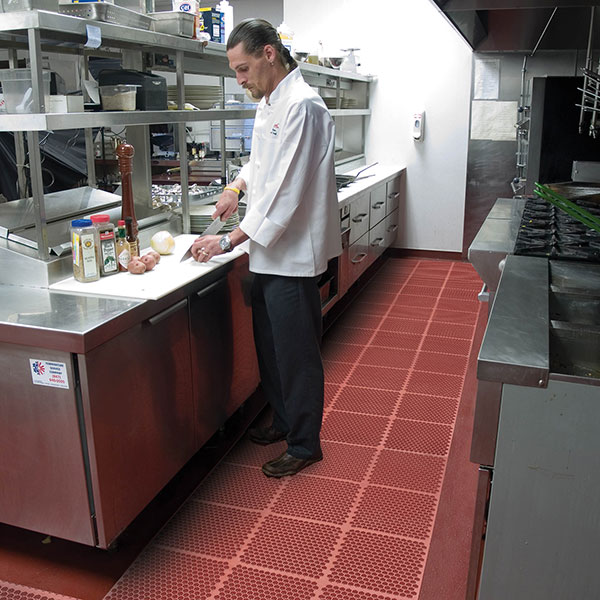 Having a good quality, comfortable Anti-Fatigue Mat is crucial when working in the restaurant industry. I know from experience, working 12-14 hour shifts on your feet all day long can really start to wear you thin both physically and mentally.
Twenty years ago, matting options were extremely limited and everyone used the standard "Honey Comb" style mats which are still in use today. These are great mats and hold up well, but nowadays there are plenty of ergonomic matting options that are far more comfortable, without compromising the integrity and resilience of a heavy duty kitchen or bar mat.
Mats used in the restaurant industry can take a beating; heavy traffic back and forth for hours on end, exposure to hot grease, oil and liquids, there is no question you need a durable mat. You also need a mat that is going to stay in place and provide traction in a slippery, fast paced environment. Our Kitchen and Bar Mats have been tested and proven to hold up to these hard core tasks.
Here are some Benefits to a Quality Kitchen, Bar or Restaurant Mat:
Providing Comfort
Reducing Fatigue
Preventing Slips and Falls
Easy to Clean
Reducing Stress on Back, Legs and Joints
Resistant to Liquids, Grease and Most Chemicals
Providing Traction in Slippery Conditions
Boosting Worker Morale
Good quality restaurant mats are made of 100% Rubber or a Nitrile/Rubber Blend made here in the USA. Nitrile is a form of synthetic rubber that is added to virgin rubber, making it even more resistant to grease oils and chemicals which is a must in any commercial kitchen. Some of the newer more comfortable mats are constructed of a Nitrile Rubber Closed Cell Foam material making it softer and more comfortable to stand on, while maintaining its resilience. As I mentioned before, there are plenty of mats to choose from that will get the job done…
Here are a few of our favorite Kitchen Restaurant Mats:
Most rubber mats are made using a molding process which means sizes are limited. However, many kitchen anti-fatigue mats are connectable using a built in interlocking system. This system allows you to create runners for bars and kitchen lines, or cover a large prep room or dishwashing area. If you are still unsure about which mat to choose, please contact our knowledgeable customer service team for help!